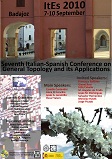 Poster for the 7th edition
developed by J.A. Oyola

Badajoz is located in the southwest of Spain, near the portuguese border, 220 km from Lisbon, 90 km from Évora, 400 km from Madrid and 215 km from Sevilla. Nowadays, it is a modern town and a lively place for entertaiment and cultural events. The airport is placed 20 minutes by car from the city center.
The conference will be held in the Building "Juan Remón Camacho" at Facultad de Ciencias, Universidad de Extremadura, Avda. de Elvas, s/n, 06071 Badajoz.
Phone: (+34) 924 289300 -- Ext. 89133 (Adrián Gordillo) and 89136 (Teresa Arias).
E-mail: ites2010@unex.es.

See the location on the map:
View larger map
Conference Office:
The Conference Office will be located in the entrance hall to "Juan Remón Camacho" Building. The conference office will be open every day (except Wednesday) from 9:00 to 13:00 and from 15:30 to 18:00, and also on Monday 6, from 18:00 to 20:00.
Internet access:
There will be a Computer Room with several networked computers available for the participants. In addition, participants may access the Internet through the wireless network EDUROAM, a project involving the Universidad de Extremadura.
Classroom equipment:
In every classrooms the following resources are available:
Chalk boards, with chalk and erasers.

Overhead Projectors (please bring your own transparencies).

Computers connected to beamers (to which you can also connect your laptop). The computers in the classrooms have the following programs installed: Power Point, Adobe Reader, Microsoft Office. If you need any other program, you need to bring your own computer.